About Us
Byron and Holly Depass
Sales Representatives


Mission Statement
We, at Depass Real Estate, believe that for our clients the purchase or sale of real estate should be a positive, profitable and enjoyable experience.
Our mission is to provide world class real estate service to all price ranges. We will strive to achieve this goal long before your home goes on the market with innovative marketing programs.
We will dedicate our time, extensive knowledge and expert negotiating skills to maximize every client's profit and satisfaction.
Our customers can expect constant communication, the highest levels of professionalism and ethics and an upbeat "can−do" attitude.
We at Depass Real Estate want each client to share their success with friends, family and business associates and become a Depass Real Estate  "Customer For Life."

Royal Lepage The Company
Royal LePage, Canada's oldest and largest real estate company, is celebrating its 95th Anniversary.
Founded in 1913 by Albert LePage when he was just 26 years old, Royal LePage is now Canada's largest real estate company with more than 13,000 agents across the country. And we firmly believe that you can only become the oldest and largest company by being the best.
Over the last 95 years, Royal LePage has led the real estate industry. We helped found the Toronto Real Estate Board and Ontario Real Estate Association, and set the standards for all other real estate companies to follow. We have expanded across the country so that wherever you want to live, you will find a Royal LePage agent ready to help. We have added new services to help our clients realize their dreams and secure their future.
And we remain steadfastly and proudly Canadian − the only major real estate company that is 100% owned and operated by Canadians, for Canadians. We have never forgotten our roots.
Albert LePage was a pioneer whose innovation and belief in customer service helped transform the real estate industry. He built a company based on professionalism, principled conduct and the highest moral and ethical standards. And those principles still guide us in everything we do.
Today, Royal LePage has over 13,000 REALTORS® in more than 600 locations across Canada. Over the years, we've learned a lot about real estate − and how to provide the best possible service for our clients. In the past ten years, Royal LePage has more than doubled in size and tripled its share of the Canadian residential resale market.
Throughout our successes, we remain dedicated to helping you through the real estate process. Our commitment to innovation and customer service is as strong as ever. Plus, we are the only major real estate company that is 100% Canadian, with Canadian employees, Canadian owners − and Canadian values.

The Royal LePage Network
With over 13,000 REALTORS®, Royal LePage has an unparalleled network of real estate offices across the country. Not only do we have the best access to the homes (and homebuyers) in the Canadian market, our exclusive Canadian partnership with Leading Real Estate Companies of the World (the world's largest referral network with over 120,000 associates world−wide) gives your property exposure to buyers from around the globe.
We support our REALTORS® so they can support you
We offer all of our REALTORS® − from those serving tiny communities to those in major urban centres − strong support from our national pool of knowledge, skill and technical expertise. We regularly invest time, money and resources to develop and provide the knowledge and tools they need to best market your home, including:
Up−to−date information about local market conditions
Quarterly housing reports
Creative brochures and newspaper ads to showcase your home
Effective Web design and listings on www.royallepage.ca
Ongoing negotiation, marketing and technical training
Our commitment to technology
Royal LePage invests millions in information technology to ensure speedy communications, improve the flow of information, and make sure our messages reach the widest possible audience.
Serious communication technology means you can always reach us.
State−of−the−art analytical tools offer marketing information you can trust.
Cutting edge promotional tools are professional and persuasive.
Plus, you have access to Canada's first, best and most popular real estate web site, which is regularly upgraded to meet changing needs.

Royal Lepage Your Community Realty
About the Broker of Record
Vivian Risi's inspirational journey in the Real Estate Industry has made her an icon for business success. Her Real Estate career began in 1974. Very soon after, she had achieved award−winning Associate Broker status while working with Canada Trust's Real Estate Division.
Guided by gut instinct and a very small investment budget, Vivian became the Broker/Owner of the small 18−Rep office when it merged with Coldwell Banker. Her bold move quickly turned the company around during a recession, transforming the lagging office with minimal market share into a powerhouse of over 500 Reps, spread over 7 offices and a company that has not only revolutionized York Region's real estate market but also setting the standard for Real Estate Companies across the country.
The company and its Reps in just over ten years, through a wide spectrum of investment climates and weathering the worst of them, Vivian's franchise of Royal LePage − Your Community Realty has become Canada's largest independently−owned Royal LePage franchise, accounting for roughly 80% of Real Estate Sales within York Region, Canada's largest and fastest growing municipality.
One of Vivian's greatest gifts has been her role in a diverse list of charitable organizations.
Contributing to more than 30 charities a year she has helped break fundraising records − in the case of York Central Hospital by as much as 52% as Gala Chair for three consecutive years. She is also a strong supporter of several shelters for Women and Children; Breast Cancer Research; Newmarket's Southlake Hospital, Markham−Stouffville Hospital; Chum City Christmas Wish Toy Drive; Toronto Sick Kids' Hospital and Amnesty International to name a few.
Vivian's motto is her lifeforce: "People come first − and it shows!"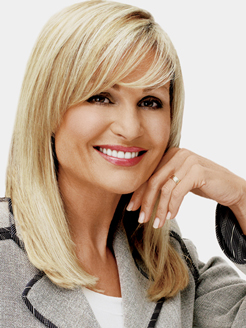 Vivian Risi

Our Offices
AURORA OFFICE
14799 Yonge Street Aurora, Ontario
Tel: 905.727.3154 Fax: 905.727.7702 Toronto Line: 416.213.7209
HEAD OFFICE – RICHMOND HILL SOUTH 8854 Yonge Street Richmond Hill, Ontario L4C 6Z6
Tel: 905. 731.2000 Fax: 905.886.7556 Toronto Line: 416.969.7172 New Realtor Hotline: 905.907.4400
RICHMOND HILL – NORTH OFFICE 10184 Yonge Street Richmond Hill, Ontario L4C 1T6
Tel: 905.883.1721 Fax: 905.883.9857
THORNHILL OFFICE
8000 Yonge Street Thornhill, Ontario L4J 1W3
Tel: 905.889.9330 Fax: 905.889.5822
UNIONVILLE, MARKHAM OFFICE 161 Main Street, Unionville, Ontario L3R 2G8
Tel: 905.940.4180 Fax: 905.940.4199
STOUFFVILLE OFFICE Tel: 905.642.6333 Fax: 905.640.7555
DOWNTOWN TORONTO OFFICE 187 King Street East Toronto, Ontario M5A 1J5
Tel: 416.637.8000 Fax: 416.361.9969